Meeting with the Romanian Prime Minister
Year 9 Kuba has a one-to-one audience with the Romanian Prime Minister.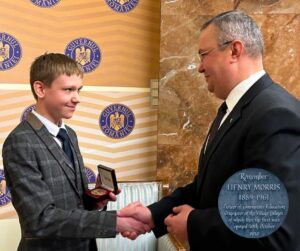 Last year Kuba in Year 9 applied to the Henry Morris Memorial Trust for funding to explore the culture of Romania. On the off chance, he decided to write to the Romanian Prime Minister, Nicolae Ciucă and amazingly was granted a one-to-one audience with him!
The Henry Morris Memorial Fund makes awards to young people in Cambridgeshire (aged 13-19) to help finance short expeditions with the purpose of commemorating the life and work of Henry Morris who pioneered community and lifelong education. Henry Morris was the founder of the village college concept and LVC was the third of his village colleges to be established. Students were given an assembly on Henry Morris and introduced to the Trust.
Kuba took the opportunity to apply for the fund and during his one-to-one audience, he was awarded a medal from Nicolae Ciucă to honour his resourcefulness.
Helena Marsh, Principal of LVC, said of Kuba's endeavours, "I am really proud of Kuba for the Linton Learner qualities of independence, curiosity and responsibility that he demonstrated."
Well done Kuba!