Uniform
At Linton Village College we believe that uniform assists in the development of a unified culture and conveys a strong message about our standards in school and the community. Our uniform code is underpinned by the following simple principles:
it is smart,
it is comfortable and practical for all students,
it is affordable for all families, and
it helps students to take pride in their membership of the College.
Linton Village College uniform can be ordered through Total Clothing.
You can download an ordering guide at the link at the bottom of this page.
New and used uniform can also be purchased through the Linton Village College Uniform Sales group on Facebook. Please note that this site is not administered by the College.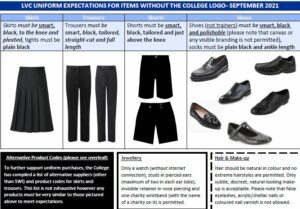 Equipment
It is imperative that students bring essential equipment to school on a daily basis so that they are ready and equipped to learn. In the present context it will be very difficult for teachers to loan non-specialist equipment to students, therefore please could you ensure that your child/children have the following items in their pencil case/s:
Pencils (at least two)
Pens (blue or black at least two)
Sharpener
Eraser
Ruler (30cm)
Purple pen (used for responses to feedback)
Highlighter pen
Glue stick
Scissors (for paper and suitable for school)
Coloured pencils
Geometry set (available on sQuid)
Scientific calculator (available on sQuid)
Small, pocket size dictionary
A full, large water bottle is required.
Children will also be expected to bring a reading book into school daily.