Ethos and Aims
We want learners to be literate, articulate and insightful members of society, enriched by an appreciation of language and literature.
Our aim is that all students at Linton Village College, regardless of their background, leave the College with a love of reading and enjoy studying literature and language. All students will be equipped with the skills needed to decode all texts for their true meaning, to enjoy manipulating and influencing readers throughout their language choices and to have the literacy skills that enable them to flourish in their future. Our role is to ensure that student gain the qualifications they need in order to move into their next stage of education but are passionate about students being able to leave school with the communication skills they need to succeed in all aspects of their life.
Knowledge in English
The knowledge that we want our students to cover sit underneath the three main umbrellas of literary studies, rhetoric and composition and linguistics. We offer a curriculum that covers what we think is important knowledge in English, a curriculum that builds upon work from KS2 and prepares students for GCSEs and A-levels whilst being broad and balanced.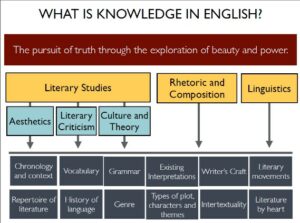 The Big Ideas
We placed the above agreed knowledge into eight main strands of study which encompass the knowledge and skills needed in order to be a successful student of English literature and language. We called these eight main strands our 'big ideas'.
We mapped these out so each unit of study is pinned on one of these 'big ideas'. We ensure that each big idea is re-visited at least three times throughout the course of KS3 so that they are embedded and a firm foundation on which to build KS4.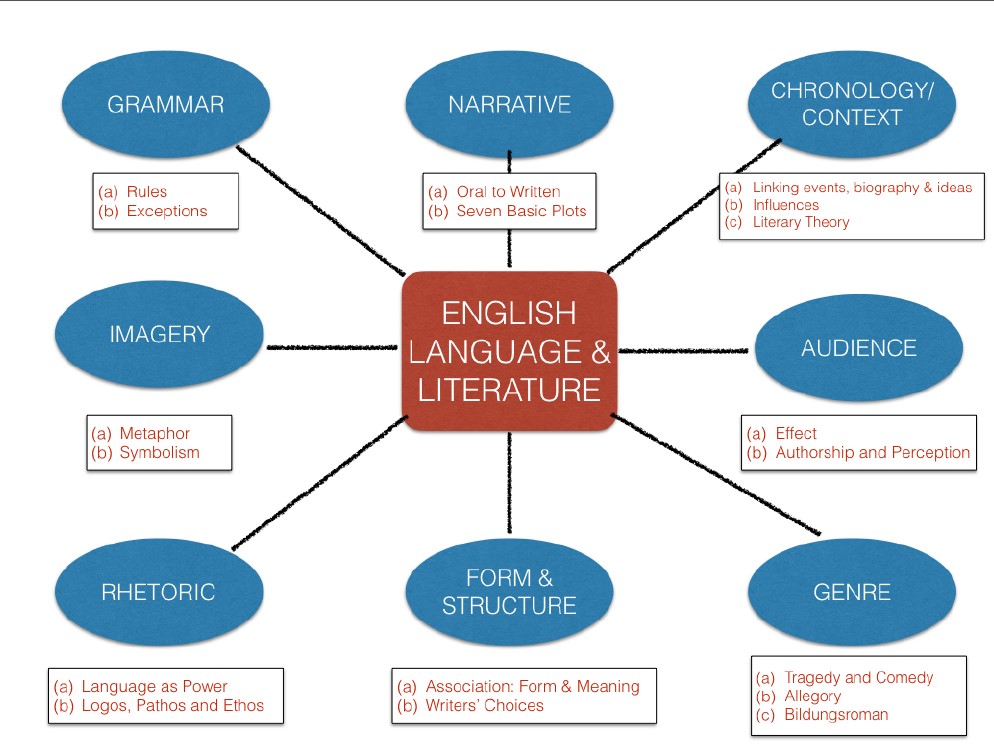 We ensure that each year group has access to reading a whole novel in addition to studying a whole novel. Reading literature and reading whole texts is an essential part of being a student of English. In Years 7, 8 and 10 students will also study a whole Shakespeare text.
Each unit of study alternates the focus of learning between literature and language, whole texts and extracts so that we have a broad and balanced coverage of curriculum throughout KS3 and into KS4. We place equal weighting on our delivery or Literature and language as we truly believe that all skills and knowledge in both are as important as the other in order for students to get a grasp of complexities of the English Language. This approach in KS3 continues into KS4. We enter all out students into the GCSE Literature and GCSE Language examinations.
Each unit of study has an agreed, common assessed outcome. We have carefully mapped out the assessed outcomes so that they complement the focus of the unit and that there is a balance across the year of reading and writing assessments, full essays or shorter responses. Formal, written feedback for these assessments are all on an agreed feedback sheet so students are getting the same experience and level of feedback for the main assessed pieces. This is in both KS3 and KS4 with the grades being entered on Go4schools. Feedback also takes the form of written, oral, peer and self-assessment throughout the unit of study so students are aware of what they are doing well and what they need to improve before the main assessed pieces.